Easy Finance (Weekly) is complete weekly collection management software evolved over 15 years and having 1500+ satisfies customers across India. Integrated with mobile app. Data can be exported from computer to mobile, new loans/collections/expenses can be keyed-in through mobile app. Mobile app data can be imported into system back and view comprehensive reports that will be faster in computer.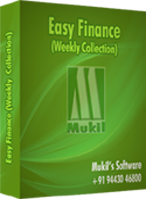 Tabular column report for a month as it is maintained in accounts note book(Patti Note).
Multiple companies can be combined to generate single cash book for managerial reporting purposes. This will help to see the overall cash management and profit/loss analysis. A single page dashboard report provides company's transactions/activity for specific period by specifying number of active loans, number of collections made and number of loans closed etc.
Weekly Collection software is available in Tamil and English. Software comes with life time license. Please call us for price quote.