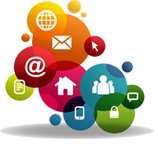 Mukils Software has specialist competencies in delivering a wide array of high-performance desktop and mobile web applications. At the heart of our successful operations is our eagle eye focus on providing technology solutions that align precisely to clients' needs. This is largely the reason why repeat and referral business form a large chunk of our overall client accounts. For us, client servicing forms an intrinsic part of our core values and we make sure that we keep them engaged with timely communication, open channel of collaboration, and high quality deliveries.
While we started off with IT sales and service, over the last few years we have scaled up considerably to take on IT development projects across the range of scale, size, and complexity. Our competencies deliver outcomes for both startups and large enterprises. We keep a strong focus on the latest trends and preferences in the industry. This helps us to design, develop and deploy technology solutions that are ready to grow with your business aspirations.
At Mukil we aim to provide enterprise grade yet cost effective web applications to companies from multiple industry verticals. This extensive experience makes us the preferred technology partners for our clients operating in the SME space. Our proven track record has added value to multiple companies spanning different industry verticals.
The visionary leadership under Mr. Selvarajan M. has built a technically strong team that is also client empathic. Our team understands your business' need to reach out to the common person and hence develops IT solutions with UI and UX that is easily understood and better adopted by everyone. This gives a bigger boost to our clients' business and they are happy to be associated with Mukil Software for as long as 10 years.